Residential Roofing Services: Roof Replacement and More!
At Raycon Contractors, we understand the importance of having a sturdy and reliable roof over your head. That's why we offer a variety of residential roofing services to meet your specific needs. Our family-owned business has decades of experience providing high-quality roof replacement, installation, and repair services to homeowners in Metairie, LA, and the surrounding areas. From start to finish, you'll be glad you chose Raycon for our exceptional service. Here is an overview of some of the residential roofing options we offer, but we do all types of roofing so please get in touch if you have any questions about other options.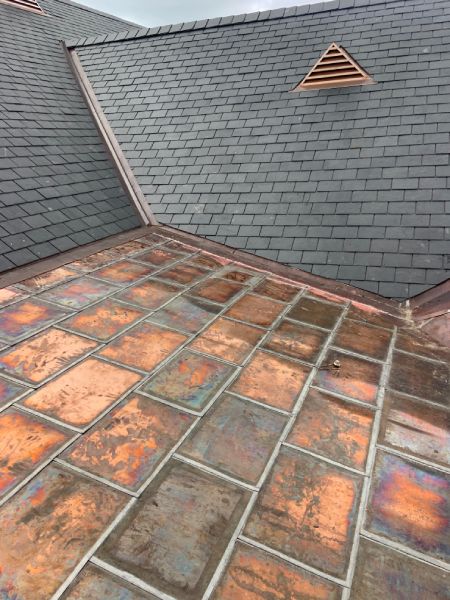 Asphalt Roofing
Our asphalt roofing services are some of the most popular options for homeowners in the area. As a GAF Presidential Master Elite roofer (and one of only 100 in the country!), we are proud to uphold the highest standards in GAF roofing with flawless installation of high-quality GAF asphalt shingles.
GAF shingles offer a wide range of features, including Time-Release Algae-Fighting technology, and unique aesthetics for your property, like the wood shake look of Grand Sequoia shingles. Timberland shingles are another popular option, known for their beauty and durability. We can help you choose the right shingles for your home and replace your roof efficiently and with expert installation techniques.
Slate Roofing
For homeowners looking for a more durable roofing solution, we offer slate roofing. Slate roofs are known for their longevity and can last up to 100 years with proper maintenance. Our team is skilled in handling the installation and repair of slate roofs and can ensure that your roof is properly installed to withstand the elements.
Metal Roofing
Metal roofs are becoming increasingly popular among homeowners for their durability and energy efficiency. Raycon Contractors proudly offers a variety of metal roofing options, from standing seam to corrugated panels.
Copper Roofing
Copper roofing is a unique and luxurious option for homeowners who want to stand out. Copper roofs are known for their durability and long lifespan, making them an excellent investment for your home. Our team at Raycon Contractors can provide you with the expertise you need to install and maintain a copper roof.
Contact us for Quality, Affordable Roof Replacement
At Raycon Contractors, we take pride in providing our customers with dependable and high-quality roofing solutions. Whether you need a full roof replacement or just a few shingles, we've got you covered. Contact us today at (504) 442-1958 or email us at ray@rayconcontractors.com to learn more!